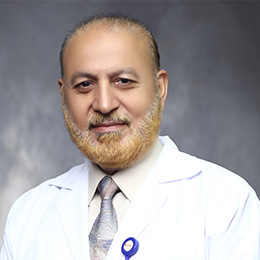 Prof. Dr. Tariq Mahmud

Speciality: Pathology / Microbiology
Department Affiliation: Section Head Microbiology
Date of Joining: 28/01/2021
About Dr. Tariq Mahmud
Dr. Tariq Mahmud Tariq is a Clinical Pathologist cum Microbiologist and working as Asst. Professor
Microbiology in the Pathology Department at SMDC and Section Head Microbiology at Shalamar Hospital
Laboratory, Lahore.
Dr. Tariq acquired his basic medical education at Army Medical College, Rawalpindi in Dec 1982. He completed
his internship at a Combined Military Hospital (CMH) Pakistan Army (500-bed hospital), and completed his
pathology training in Oct 1986 and Microbiology residency at Armed Forces Institute of Pathology (AFIP)
Rawalpindi in Dec 1994. He had been working as graded and classified pathologist in different CMHs of Army
Medical Corps till he got retirement from his Army service in 2000. His military service of 18 years coupled with 21
years' experience in private-public healthcare sectors make him a suitable candidate to perform multiple jobs aptly in any healthcare industry.
He has worked as Head of Hospital Laboratory & Director PGME Pathology at French Medical Institute for
Mothers and Children (FMIC) Kabul Afghanistan, managed by Aga Khan University Karachi over 10 years.