Osteoporosis is a systemic skeletal disease characterized by low bone density and micro architectural distortion leading to increased bone fragility. It can be classified into primary osteoporosis as a result of advancing age, menopause and secondary resulting due to adverse effects of variety of medications used in long-term illnesses, endocrine disorders, and post chemotherapy survivors. Osteoporosis contributes to significant morbidity particularly in women due to fragility fractures and mobility issues.
About Us
Osteoporosis Risk Groups
Investigations
Treatments
About Us
Since osteoporosis is a preventable disease and its onset can be delayed if timely screened and treated accordingly. We at Shalamar hospital are offering services in screening and treatment of osteoporosis.


Dedicated consultation timing 12pm -3pm every Saturday
Osteoporosis Risk Groups
Investigations
Treatments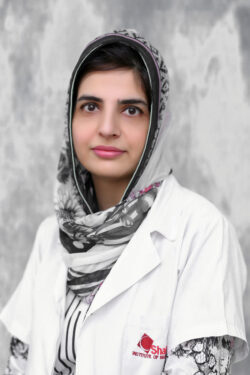 Dr. Sarwat Iqbal
Assistant Professor
Shalamar Hospital
Please call +92-42-111-205-205 Ext 317 for any further queries