Shalamar Hospital is a well-known healthcare institution located in Lahore, Pakistan, which provides a wide range of medical services to patients. One of the specialized clinics available at Shalamar Hospital is the thyroid clinic, which offers comprehensive care for individuals with thyroid disorders.
The thyroid gland, which is located in the neck, plays a crucial role in regulating various body functions such as metabolism, heart rate, and body temperature. Thyroid disorders can occur when the gland produces too much or too little thyroid hormone, leading to conditions such as hyperthyroidism, hypothyroidism, and goiter.
About Us
Conditions we Treat
About Us
At the thyroid clinic in Shalamar Hospital, patients can receive expert care from experienced endocrinologists and other healthcare professionals. The clinic offers a range of diagnostic services such as thyroid function tests, thyroid ultrasound, and fine needle aspiration biopsy. Treatment options include medication, radioactive iodine therapy, and thyroid surgery.
The thyroid clinic at Shalamar Hospital is committed to providing personalized, compassionate care to patients with thyroid disorders, with the goal of improving their quality of life and overall health.
Conditions we Treat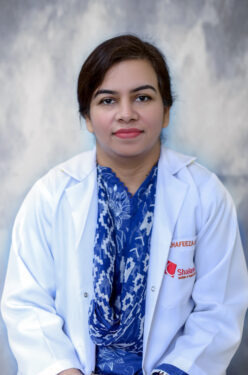 Dr. Hafeeza Naz
MBBS, FCPS
Assistant Professor
Please call +92-42-111-205-205 Ext 429 for any further queries