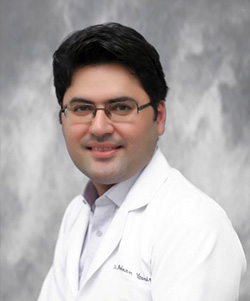 Dr. Khawaja Adnan Younis
Specialty: Cardiology Department Affiliation: Cardiology Date of Joining: 01/08/2019
Professional Summary
Dr. Khawaja Adnan Younisis a CARDIOLOGIST at Shalamar Hospital. He is FCPS in CARDIOLOGY.
Dr. Khawaja Adnan Younis attended medical school at Foundation University Medical College, Islamabad and completed his CARDIOLOGY residency at Jinnah Hospital, Lahore in 2016. He received his undergraduate degree from Foundation University Islamabad.
Prior to joining Shalamar, Dr. Khawaja Adnan Younis was Senior Registrar at Mayo Hospital Lahore, and was also working at Farooq Hospital Westwood branch, Lahore for private practice.
Academic Profile

 

Title

From

To

Institution

City/Country

Fellowship in Cardiology

01/2013

12/2015

Jinnah Hospital Lahore

Lahore / Pakistan

M.B.,B.S.

01/2003

03/2008

Foundation University Medical College

Islamabad / Pakistan

Residencies/Clinical Training OR Clinical Attachment

Title

From

To

Institution

City/Country

Post Fellowship Training in General / Interventional Cardiology

12/2016

05/2019

King Edward Medical University / Mayo Hospital Lahore

Lahore / Pakistan

Fellowship in Cardiology

01/2013

12/2015

Jinnah Hospital

Lahore / Pakistan

 

Residency Training in Internal Medicine

07/2010

12/2012

Jinnah Hospital

Lahore / Pakistan

Research &Publications

Title of Research/ Published Article

Year of Publication

Journal Name

Author/ Co-authors

ISSN #

1.      Author: Younis KA, Bhatti TA, Zafar MF, Khalid S.Determine the Prevalence of High Thrombolysis in Myocardial Infarction (TIMI) Risk Scores and Complications Associated to High TIMI Score in Patients Presented with Acute ST Elevation Myocardial Infarction. Med Forum 2019;30(6):138-141.

2.      Co-Author: Khalid S, Younis KA, Bhatti TA, Javed MW. Examine the Outcomes of Closed Mitral Commissurotomy and Compare the Findings with Balloon Mitral Valvotomy in Patients with Mitral Stenosis. Med Forum 2019;30(6):134-137.

Awards and Honors

Title

Year

Institute

City/ Country

Certificate of Honor in ENT in MBBS

2006

Foundation University Medical College

Islamabad / Pakistan