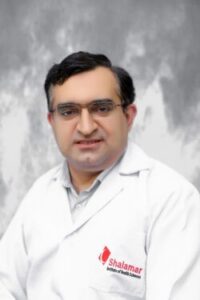 Dr Asif Z Bhatti
M.D., F.A.C.S/F.C.P.S./F.R.C.S./F.E.B.O.R.A.S
Associate Professor of Plastic Surgery
Shalamar Institute of Health Sciences, Lahore
Department of Plastic, Aesthetic ,Hand and Reconstructive Surgery, Division of Surgery, Shalamar Medical College/Hospital
About Dr. Bhatti
Dr. Asif Bhatti is an accomplished plastic surgeon with extensive international training and experience. After completing his FCPS in Pakistan, he pursued further training in plastic and burn surgery in New Zealand, England, Ireland, Singapore, and the USA. He completed an advanced fellowship at the Christine Kleinert Institute of Hand & Microsurgery in Louisville, USA.
Dr. Bhatti has held prestigious positions as a Plastic Surgery Consultant at King Saud Medical City in Saudi Arabia and Saad Specialist Hospital in Al Khobar. He has been actively involved in groundbreaking surgeries, including participating as a Hand Surgeon in the first successful double hand transplant in the world. Recognized for his expertise, Dr. Bhatti's name is included in the Who's Who in Healthcare, America (2011/2012 Edition) and the International Bibliographical (2012 Edition).
Currently, Dr. Asif Bhatti serves as the Head of the Department of Plastic Surgery and Associate Professor of the Hashmat Effendi Burns and Plastic Surgery at Shalamar Medical College, Lahore, affiliated with the University of Health Sciences. He also supervises the plastic surgery program at the College of Physicians and Surgeons Pakistan.