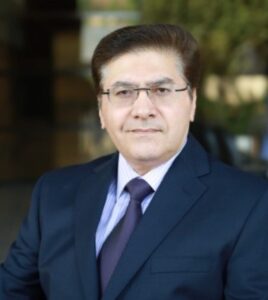 Prof. Dr. M. Saleem
MBBS, FRCS, FRCS (Tr & Orth)
Head of Trauma and Orthopedics
Shalamar Institute of Health Sciences, Lahore
Department of Orthopedics and Reconstructive Surgery
About Prof. Dr. M.Saleem
Dr. M. Saleem is an accomplished orthopedic surgeon and the Head of Trauma & Orthopedic Services at Shalamar Institutes of Health Sciences in Pakistan. Dr. Saleem has been instrumental in organizing the AO International 4-day Trauma courses with hands-on Synbone, which is a unique offering in Pakistan. These courses have been conducted annually for the past 14 years. Additionally, Shalamar Hospital serves as a center for AO Trauma fellowship.
With over 23 years of experience, Dr. Saleem specializes in foot and ankle surgery and is widely regarded as a leading expert in this field in Pakistan. He has also made significant contributions to minimal invasive surgery techniques. His expertise extends to various areas, including arthroscopic surgery, arthroplasty, Ilizarov surgery, upper limb surgery, and pediatric orthopedic surgery.
Dr. Saleem obtained his medical degree from Nishter Medical College in 1987. He completed his four-year pre-fellowship training in Ireland and successfully passed the FRCS (Fellowship of the Royal College of Surgeons) in General Surgery from the Royal College of Surgeons of Glasgow in 1993. He underwent five years of structured training under the supervision of Professor George Bentley in the Trauma & Orthopedic department on the Stanmore rotation in London. During this period, he had the opportunity to work at renowned teaching hospitals such as Great Ormond Street, Royal Free Hospital, and Whittington. He obtained his FRCS (Intercollegiate Board Exam of Trauma & Orthopedic from U.K) in 1999. Before joining Shalamar Hospital in 2000, he worked as a locum consultant Orthopedic at Old Church Hospital/Queens Hospital in Romford, London.
Dr. Saleem's accomplishments in the field of orthopedic surgery have earned him recognition as one of the top orthopedic surgeons in Pakistan. He has authored numerous publications and serves as an examiner and paper setter for FCPS and MS Orthopedic surgery. He is a certified AO International faculty member and actively contributes to the field. Beyond his clinical work, Dr. Saleem is actively involved in various professional organizations and has served on numerous national and institutional committees. He currently holds a faculty position in a National Foot & Ankle forum and contributes to the Step to Walk event, an international initiative based in the United States. He collaborates with renowned orthopedic surgeons such as Prof. Mark Myerson and Prof. Amer Aziz.