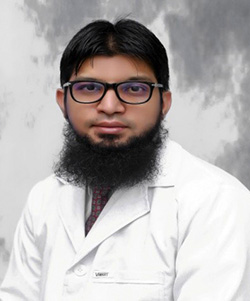 Dr. Muhammad Muneeb
Specialty: Cardiologist
Department Affiliation: Cardiology, Assistant Professor
Date of Joining: 06/11/2015
Professional Summary
Dr. Muhammad Muneeb is a CARDIOLOGIST at Shalamar Hospital. He is F.C.P.S. Cardiology.
Dr. Muhammad Muneeb attended King Edward Medical College and received his undergraduate degree from King Edward Medical University in 2007-08.
He completed his CARDIOLOGY internship and residency at Punjab Institute of Cardiology, Lahore in 2014 and received his F.C. P. S. Cardiology degree in 2015. He was awarded with Gold Medal in 2015 for his academic performances in FCPS cardiology examination.
After completing fellowship in cardiology, Dr. Muhammad Muneeb joined Shalamar Hospital Cardiology Department.
Our Cardiology department manages patients with Myocardial infarction (heart attack), heart failure patients as well as patients with arrhythmias. We are possibly the only institution where primary PCI (angioplasty/stenting with 90 minutes of heart attack) is available round the clock.