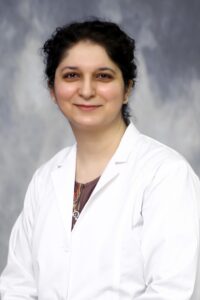 Dr Muna Ahmad
MD, Diplomat American Board of Ophthalmology
Consultant Ophthalmologist,
Head of Department & Assistant Professor of Ophthalmology
Shalamar Institute of Health Sciences, Lahore
Department of Ophthalmology
About Dr. Muna
Dr. Muna Ahmad is the Head of the Department of Ophthalmology at Shalamar Hospital and is an Assistant Professor of Ophthalmology at the Shalamar Medical and Dental College. She shares the vision of Shalamar to provide widespread and equitable accessibility of ophthalmology services in Pakistan.
Dr. Muna earned her medical degree with multiple honors from the Aga Khan University Medical College. She completed a research Fellowship in Ocular Immunology at Harvard University's Massachusetts Eye & Ear Infirmary in Boston, USA. She was then selected for the highly competitive internship in Internal Medicine at Harvard's Beth Israel Deaconess Medical Center. Subsequently, she trained at Boston University's rigorous Ophthalmology Residency Programme at Boston Medical Center. It was here she was exposed to the plight of the City's underprivileged communities. She went on to join the faculty at Tufts University/ New England Eye Center (NEEC) as an Assistant Professor and was selected to lead the NEEC Satellite Ophthalmology unit in Leominster, USA.
Following her lifelong passion to serve underserved populations, Dr. Muna and her family moved to Pakistan where she worked at the largest provider of free eye care in the country, LRBT. She was then invited to join the faculty at SMDC and Shalamar Hospital. After a year, she was appointed as Head of the Department. Her vision is to lead the Department into one of the finest ophthalmology institutions in its class.
Dr. Muna's surgical focus is cataract and anterior segment surgery. She diagnoses and treats a variety of complex medical diseases in young adults and geriatric patients. These include glaucoma, infectious diseases, autoimmune diseases, macular degeneration and diabetic retinopathy. She is passionate about educating the masses about common eye diseases and has worked to provide free eye care in rural areas of Punjab.
Dr. Muna has the unique honor of being one of the only USA-trained comprehensive ophthalmologists in Lahore. She is the author of 16 peer-reviewed publications, a book chapter and electronic publications. Dr. Muna is a member of several professional organizations and has successfully completed the rigorous recertification criteria of the American Board of Ophthalmology.