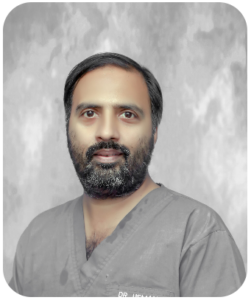 Dr. Usman Sarwar
FCPS , AO Trauma Fellow(Belgium)
Consultant & Assistant Professor Trauma and Orthopedics
Shalamar Institute of Health Sciences, Lahore
Department of Orthopedics and Reconstructive Surgery
About Dr. Usman Sarwar
Dr. M. Usman Sarwar is an Assistant Professor of Orthopaedic Surgery at an unspecified institution. He obtained his medical degree from Hamdard University in Karachi. Following his degree, he completed a one-year internship at Mayo Hospital in Lahore, affiliated with King Edward Medical University.
Dr. Usman Sarwar then pursued a two-year residency in general surgery at Aga Khan University in Karachi, followed by a four-year residency in orthopaedic surgery at the same institution. After completing his residency, he furthered his training by undertaking an AO Trauma Fellowship at KU Leuven University Hospital in Belgium. Additionally, he completed the AO Trauma Master Course in Switzerland.
Dr. M. Usman Sarwar joined Shalamar Hospital as a senior registrar and was later promoted to the position of Assistant Professor. As an Assistant Professor of Orthopaedic Surgery, he likely contributes to the teaching and training of medical students and residents while also providing patient care and conducting research in his field.