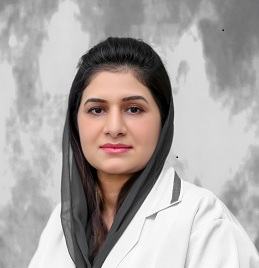 Dr. Uzma Sarwar
Specialty: Dermatologist & Aesthetic Physcian
Department Affiliation: Associate Professor, Dermatology Department
Date of Joining: 20/09/2012
Professional Summary
Dr. Uzma Sarwar is a Dermatologist at Shalamar Institute of Health Sciences. She is working as Associate Professor of Dermatology. She is a Fellow of the College of Physcian & Surgeons in the subject of Dermatology. She is a dynamic dermatologist with a track record of delivering exceptional patient care in high-volume environment.
Dr. Uzma Sarwar has completed her MBBS from King Edward Medical College, Lahore and after her MBBS, she pursued for fellowship from College of Physcians & Surgeons and completed her internal medicine and later Dermatology residency in 2012 from Mayo Hospital/King Edward Medical University, Lahore.
To learn and practice the latest trends in Aesthetics, she completed her certification and later Diploma in Aesthetic Medicine from American Academy of Aesthetic Medicine, USA in 2015. She has expertise in performing all dermatological & aesthetic procedures like cryotherapy, cauterization, electrolysis, chemical peeling, phototherapy, skin biopsies, LASERS and PRP therapy. She is successfully running a LASER & Aesthetic Clinic in Shalamar hospital with her HOD.
She is the accredited supervisor of CPSP for post graduate training in dermatology. She has certification in medical teaching ICMT from CILT which is affiliated with Shifa University, Islamabad & University of Liverpool, UK
Prior to joining Shalamar Institute of Health Sciences in September 2012, Dr. Uzma Sarwar was working as Senior registrar at Dermatology Department, Mayo hospital / King Edward Medical University, Lahore.
She is a skilled clinician, keen researcher, trainer of FCPS dermatology and a mentor for undergraduate and post graduate students.
Academic Profile

(Chronological Order starting from latest)

Title

From

To

Institution

City/Country

FCPS (Dermatology)           

2006

2012

College of Physcians & Surgeons

Pakistan

 

MBBS

1998

2003

King Edward Medical College

Pakistan

Residencies/Clinical Training OR Clinical Attachment*

Title

From

To

Institution

City/Country

Associate Professor

10/2019

Till date

Shalamar Institute of Health Sciences

Lahore, Pakistan

Assistant Professor

09/2012

10/2019

Shalamar Institute of Health Sciences

Lahore, Pakistan

Senior registrar

05/2012

09/2012

Mayo Hospital, Lahore

Lahore, Pakistan

Resident Dermatology

06/2008

05/2012

Mayo Hospital, Lahore

Lahore, Pakistan

Resident Internal Medicine

11/2005

05/2008

Mayo Hospital, Lahore

Lahore, Pakistan

House Physcian Dermatology

12/2003

05/2004

Mayo Hospital, Lahore

Lahore, Pakistan

House physician Internal Medicine

06/2004

11/2004

Mayo Hospital, Lahore

Lahore, Pakistan

Research & Publications*

Title of Research/ Published Article

Year of Publication

Journal Name

Author/ Co-authors

ISSN #

1.      Ashraf A, Aman MS, Khan AZ, Bokhari MA, Sarwar U, Kalhor BA. Frequency of different types of arthritis in patients of psoriasis. Pakistan journal of medical & health sciences, 2021;15 (6): 1331—1334

 

2.      Khan IH, Ashraf A, Sarwar U, Munir A, Tariq H, Khan AZ, Bokhari MA. Comparison of efficacy of NdYAG laser with adjuvant eflornithine cream versus NdYAG laser alone for the treatment of facial hirsutism in women. Pakistan journal of medical & health sciences, 2021;15 (7): 1685—88

 

 

3.      Rashid S, Azeem S, Zaib, Iftikhar U, Sarwar U, Akhtar A. Prevalance & severity of cutaneous manifestations in patients of CRF on hemodialysis in relation to duration of replacement therapy. Journal of Pakistan Association of Dermatologist, 2021;32(2): 224-230.

 

 

 

4.      Zaib, Naqvi F, Inayat S, Yaqoob N, Tahir K, Sarwar U, Muhammad F. Cutaneous impact of surgical mask versus N 95 mask during covid-19 pandemic: Incidence of dermatological side effects and response of topical methylprednisolone aceponate (MPA) treatment to associated contact dermatitis. Journal of Pakistan Association of Dermatologis, 2020; 30(4): 650-655.

 

5.      Sarwar U, Rehman ur H, Rashid S, Bokhari MA. Frequency and Association of dermatological manifestations of type 2 diabetes mellitus with body mass index and HbA1c levels. Journal of Pakistan Association of Dermatologist, 2018; 28(2) :199-206

 

 

6.      Rehman ur H, Sarwar U, Majeed M, Bokhari MA. Treatment of post adolescent female Acne with spironolactone and low dose isotretinoin. Medical Forum Monthly, 2018; 29: 2-6

 

7.      Rashid S, Zaib, Sarwar U. Frequency of undiagnosed diabetes mellitus in patients with onychomycosis. Pakistan journal of medical & health sciences, 2017;11: 755-56

 

 

8.      Rehman ur H, Sarwar U, Majeed M. Efficacy of low dose isotretinoin (20mg) for treatment of mild to moderate acne vulgaris. Medical Forum Monthly, 2014; 25:83-87

 

9.      Sarwar U, Asad F, Rani Z, Khurshid K, Pal SS. Frequency of allergic contact dermatitis in patients with hand eczema with European standard and corticosteroid series. Journal of Pakistan Association of Dermatologist, 2013; 23: 289-94.

 

 

10. Rani Z, Tufail F, Asad F, Khursheed K, Sarwar U, Pal SS. Frequency of allergic contact dermatitis in patients with chronic eczema. Annals of KEMU, 2010; 16: 55-8.

 

Award & Certification

Title

Year

institute

Country

CHPE

And ICMT (International Certification in Medical Teaching)

2021

Shifa Tameer Millat University, Islamabad in affiliation with University of Liverpool, UK

Pakistan

Diploma in Aesthetics

2019

American Academy of Aesthetic Medicine AAAM,  USA

Dubai, UAE

Certification in Aesthetics

2018

American Academy of Aesthetic Medicine AAAM,  USA

Dubai, UAE

Training Course in Cosmetic Dermatology

2015

Mahidol University

Bangkok, Thialand

Training Course on face thread lift with fillers and threads

2016

CMH Medical College

Lahore, Pakistan

Professional Affiliations and Memberships (national and International)*

Title

From

To

Institution

Country

Accredited Supervisor of CPSP

2022

lifetime

College of Physcians & Surgeons

Pakistan

Member PAD

2012

lifetime

PAD

Pakistan

 

Fellow CPSP

2012

Life time

CPSP

Pakistan

 

Member College Mentor Committee

2019

Till date

SMDC

Lahore, Pakistan

 

Member College Post Graduate Training Committee

2019

Till date

SMDC

Lahore, Pakistan